How bout them Cowboys?! It's football season again, which makes it the perfect time to provide you with the most well-known hangover cure: Brunch.
Available on weekends & holidays, treat yourself to a hearty Big Texas Breakfast, dive into a Bacon & Egg Brunch Burger, or bask in the glory of the Bacon & Egg Tater Tots (pictured below).
Brunch Menu:
Bacon & Egg Brunch Burger  | 100% American cab. ground chuck, fried egg, smokey bacon, cheddar, tater tots
Bacon & Egg Tater Tots | Crisp tater tots, bacon bits, queso cheese dip, sunny side egg
Big Texas Breakfast | 3 eggs, smoked bacon, sausage, tater tots & buttermilk pancakes
Banana Foster's French Toast  |  Caramelized bananas, maple pecan butter, vanilla bean ice cream
Breakfast Tater Tots | With spicy ketchup
Chilaquiles | Sunny-side egg & avocado over loaded nachos
Buttermilk Pancakes | Add berry compote for $2
For pricing & hours, click here here.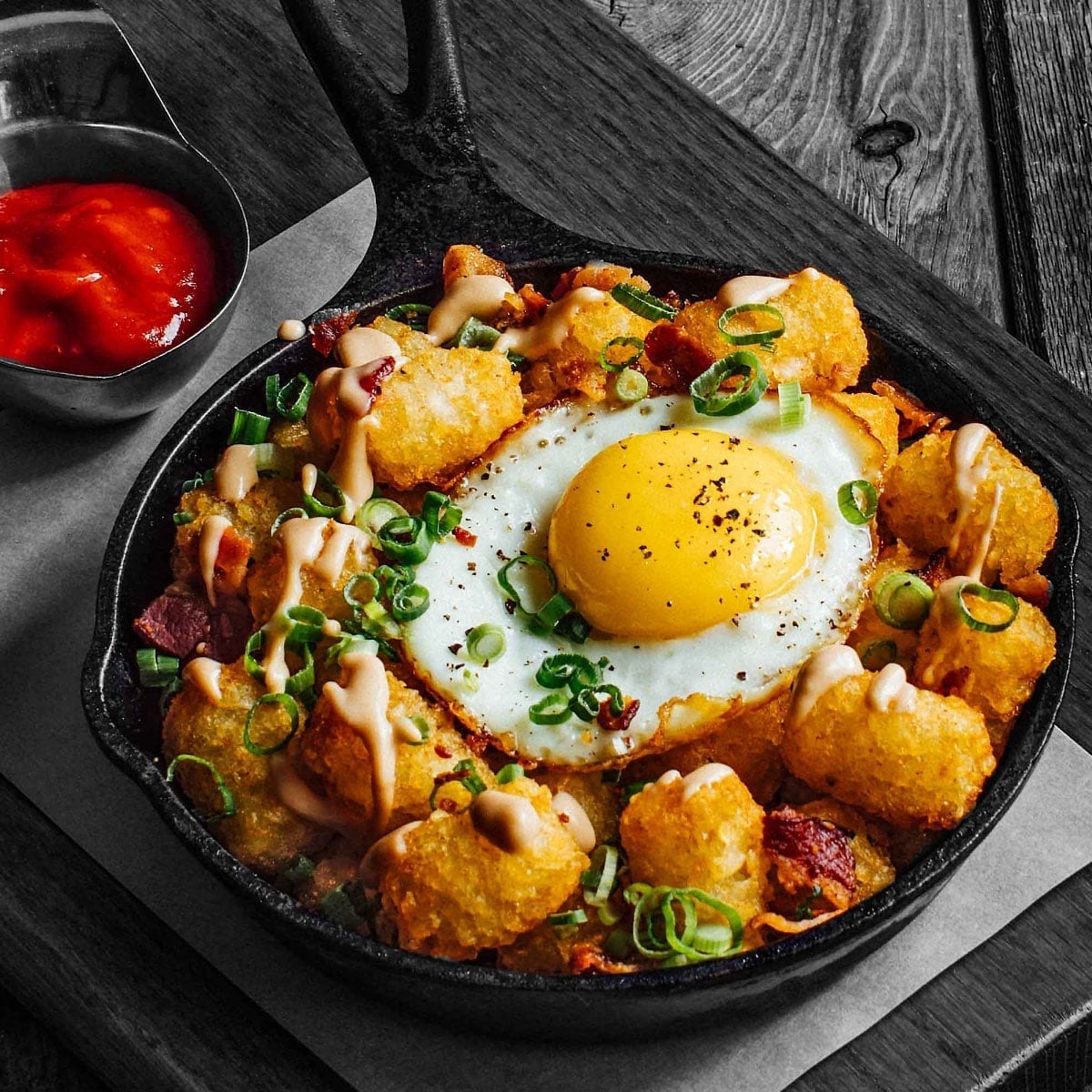 ABOUT SHARK CLUB
Towering big screens, multiple satellite feeds and Pay Per View events make Shark Club sports bar your HQ for cheering hard –and playing hard– since 1993.
Shark Club fuses the intensity of a Major League sports bar with the comfort of your best friend's Man Cave. Get loud. High-five strangers. Paint your belly. We don't judge. We're fans too.
Characterized by quality, driven by passion; each of Shark Club's thirteen locations feature innovative menus crafted from carefully selected ingredients.
We take the game seriously — but there's more to it than fantastic food and Hi-Def speakers. At Shark Club, it's about living in the moment. Sharing emotions with a room full of people you just met. Waking up wearing the bottom half of a stolen mascot costume. (Yeah, we heard about that.)
So bring your passion. Because Shark Club is more than just a great sports bar.
It's a game changer.